New Collegeville Bible Commentary: Sirach
Volume 21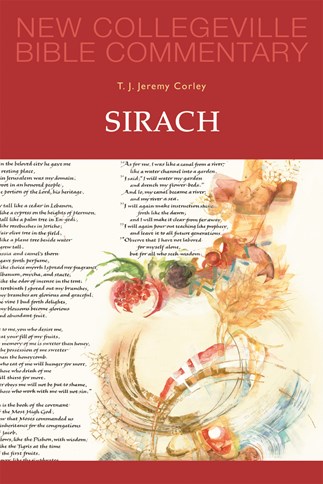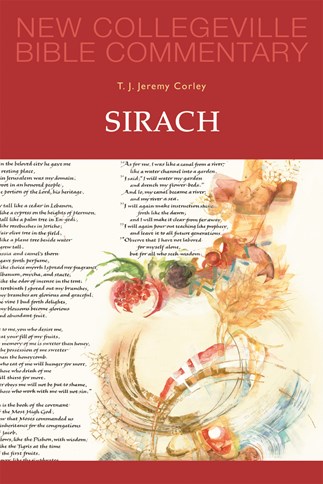 ISBN: 9780814628553, 2855

Details
:
152
pgs,
6 x 9 x 5/16
Publication Date:
09/01/2013
The book of Sirach praises the study of the law, the wisdom of the men of old and their prophecies. Its author is well-read and rearticulates traditional Jewish wisdom for his generation, centering it on fear of the Lord, and clearly asserting that wisdom is a gift from God. He encourages his audience to remain steadfast in following the law of Moses rather than following the ways of the dominant pagan Greek culture.
Jeremy Corley is a Catholic priest of the Diocese of Portsmouth, UK. Following several years of parish ministry, he completed a doctorate in biblical studies at the Catholic University of America. He has published books and articles on biblical topics, especially the book of Sirach, and now teaches Scripture at St. Patrick's College, Maynooth, Ireland.
ISBN: 9780814628553, 2855

Details
:
152
pgs,
6 x 9 x 5/16
Publication Date:
09/01/2013
Reviews
Dr. Jeremy Corley is an internationally recognized expert on the Book of Sirach. In this commentary, he provides a compact, but helpful guide to unpacking the riches of this often neglected book, especially its multiple connections with the rest of the Bible and with other ancient literature. He manages to say a great deal in relatively few pages.
Rev. Christopher Begg, Professor of Biblical Studies, School of Theology and Religious Studies, The Catholic University of America, Washington, DC
This new work is an excellent commentary written by Dr. Jeremy Corley, one of the foremost experts on Sirach (the Wisdom of Ben Sira). Corley's familiarity with the vast literature on this fascinating Wisdom book shines through his concise comments. Especially valuable are the many cross references he provides to other parts of Sirach as well as to the rest of Old Testament and even the New Testament. Corley's work ranks among the best short commentaries available today.
Alexander A. Di Lella, OFM, Professor Emeritus Biblical Studies, The Catholic University of America, author of
The Wisdom of Ben Sira
(Anchor Bible vol. 39; New York: Doubleday, 1987)