Life of Jesus in Icons
From the Bible of Tbilisi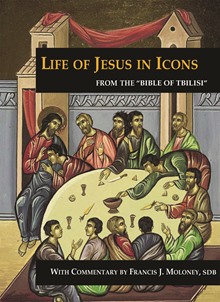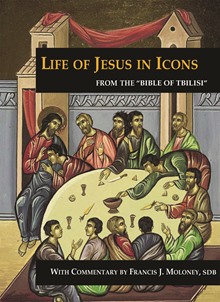 ISBN: 9780814632376, 3237

Details
:
144
pgs,
6 x 9
Publication Date:
10/01/2008
Thirty precious icons from the Bible of Tbilisi are reproduced in this attractive book. This collection portrays the life of Jesus from the announcement of his birth to the moment of his Ascension into heaven.
After a useful introduction on how to read icons, a full-page color reproduction of each icon is included along with the relevant Scripture text and a commentary written by the noted biblical scholar, Francis J. Moloney, SDB. Carefully chosen extracts from patristic texts shed further light on each of the events portrayed in the icons.
Beautifully presented, this hardbound full-color book is ideal for meditation and reflection, and will make an excellent gift.
ISBN: 9780814632376, 3237

Details
:
144
pgs,
6 x 9
Publication Date:
10/01/2008
Reviews
This book is an artistic treasure that achieves its purpose in sharing the wealth of these charming icons and prayerful reflections with the universal Church, East and West.
Catholic Studies
. . . a most accessible introduction to icons in the wider context of liturgical life and prayer. The lucid commentary is thorough, accurate, and discerning and enables the reader to understand icons as `theology in color,' a `bible in images,' without getting mired in much of the detail of the history and schools of iconography.
Cistercian Studies Quarterly
The icons themselves are quite beautiful and they will inspire anyone who uses this book for prayer and contemplation of the life of Jesus.
Catholic Library World
The high quality of reproduction as well as the spiritually enriching content of Moloney's commentaries make this book a rich source for prayer and contemplation.
Worship
[T]his book of icons is a small gem. . . . recommended for those who value art as a way to enter into in a contemplative way of being present to their God. It is highly recommended for anyone.
Emmanuel
[A] beautiful gift book.
The Bible Today
Icons represent a lot in western society. Life of Jesus in Icons: From the Bible of Tbilisi is a fresh approach to the life of Jesus through the iconic events throughout the man's life. From the Annunciation to the Ascension, each event is discussed in detail with quotes from Scriptures accompanying each event alongside classical art work. A new way of reading the story of Christ, Life of Jesus in Icons is a strong choice for any Christian book collection.
Midwest Book Review