Panorama of the Old Testament - DVD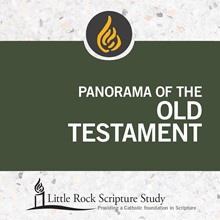 Each lesson includes a wrap-up lecture which may be provided in a number of ways:

A DVD that may be purchased here for use in your community.
Free online access to the same lectures as the DVD. The link to these lectures is found inside of each book on the Table of Contents page.
A local speaker of your choosing.
Panorama of the Old Testament surveys the variety of books found in the Old Testament to uncover interwoven themes, the background of familiar characters and God's overall plan of salvation. Speakers for this study include:
Introduction - Catherine Upchurch
Lesson 1 - Clifford M. Yeary
Lesson 2 - Thomas Jakobs
Lesson 3 - Clifford M. Yeary
Lesson 4 - Catherine Upchurch
Reviews
Our group recently studied Panorama of the Old Testament. It was filled with a wealth of information and insights, and it tied together so many loose ends in our understanding of the Old Testament. We enjoyed meeting Old Testament figures on a personal level and recognizing the Old Testament as part of our history as well as that of the Jewish people. As we studied God's Word together, we were comforted with continuing reassurances of God's faithfulness and forgiveness.
Breaking Bread and Word Bible Study Group, Hot Springs, Arkansas