The Life of Jesus Christ
Part Two, Volume 2, Chapters 58-89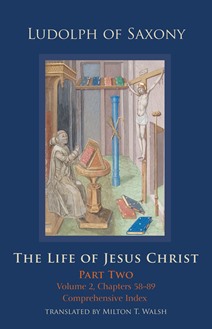 SEE INSIDE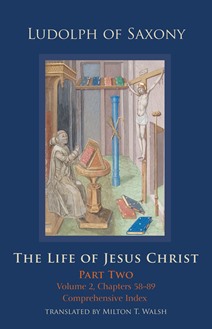 SEE INSIDE
ISBN: 9780879072841, CS284H

Details
:
784
pgs,
5 1/2 x 8 1/2 x 1 3/4
Publication Date:
04/05/2022

This fourth and final volume of The Life of Jesus Christ presents extensive meditations on the passion of Christ, a favorite theme for Ludolph's contemporaries. He then conducts the reader through the events of Easter and Pentecost, concluding with meditations on the return of Christ at the end of time, bringing to a triumphant conclusion the sweep of salvation history begun in the first volume. Along with presenting the final part of the Carthusian's magisterial work, this volume includes a detailed index to all four volumes.
Milton T. Walsh holds a doctorate in sacred theology from the Gregorian University in Rome. For many years, he taught theology at St. Patrick's Seminary in Menlo Park, California. He is the author of several books, including Second Friends: C. S. Lewis and Ronald Knox in Conversation, In Memory of Me: A Meditation on the Roman Canon, and Witness of the Saints: Patristic Readings in the Liturgy of the Hours.
ISBN: 9780879072841, CS284H

Details
:
784
pgs,
5 1/2 x 8 1/2 x 1 3/4
Publication Date:
04/05/2022

Reviews
"If you could only nourish your life of prayer with the Bible and one other book, a strong case could be made that Ludolph's Life of Christ is that book."
Julian Meetings Magazine