Panorama of the New Testament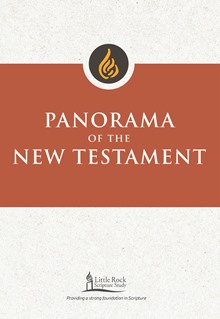 Beginning with the Gospels and Acts and continuing through the letters and final book of the Bible, Panorama of the New Testament invites us into familiar scenes but with a wide-angle lens to capture the big picture. For newcomers to Bible study, this is a wonderful place to begin to put the pieces together; for seasoned Bible students, this study identifies major themes that emerge throughout the New Testament books. Commentary, study and reflection questions, prayer and access to recorded lectures are included. 4 lessons.
Stephen J. Binz is a biblical scholar, award-winning author, and popular speaker. He studied Scripture at the Pontifical Biblical Institute in Rome and Jerusalem, and has developed dozens of books and programs in biblical theology and spirituality, including Advent of the Savior: A Commentary on the Infancy Narratives of Jesus; Introduction to the Bible: A Catholic Guide to Studying Scripture; The Passion and Resurrection Narratives of Jesus; The God of Freedom and Life: A Commentary on the Book of Exodus; Panorama of the Bible: New Testament; and Panorama of the Bible: Old Testament (Liturgical Press). He offers keynotes and workshops at church conferences and leads pilgrimages to the lands of the Bible. Information about his work may be found at Bridge-B.com.