"Your Hearts Will Rejoice"
Easter Meditations from the Vita Christi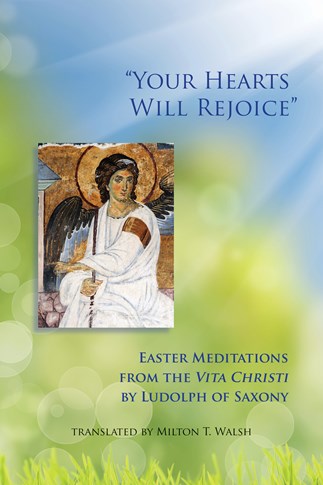 SEE INSIDE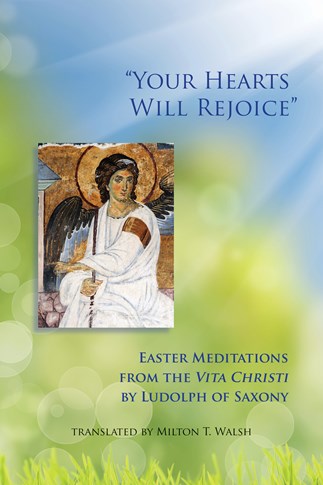 SEE INSIDE
Vita Christi, a spiritual classic of the fourteenth century by the Carthusian Ludolph of Saxony, was an early and extremely comprehensive book of meditations on the events recorded in the gospels. A popular and influential book for centuries, it was instrumental in the conversion of Ignatius Loyola, and Teresa of Avila directed that every convent of her reform include "the Carthusian" in its library.

This volume, which consists of excerpts from the full Vita Christi (forthcoming from Cistercian Publications), presents Ludolph's meditations on the resurrection and the appearances of the risen Christ, concluding with Pentecost. Although shelves of books are dedicated to Christ's passion, comparatively little spiritual reading for the Easter Season exists. This book is intended to help fill that lacuna and to introduce readers to this classic text.

Milton T. Walsh holds a doctorate in sacred theology from the Gregorian University in Rome. For many years he taught theology at St. Patrick's Seminary in Menlo Park, California. He is the author of several books, including Second Friends: C. S. Lewis and Ronald Knox in Conversation, In Memory of Me: A Meditation on the Roman Canon, and Witness of the Saints: Patristic Readings in the Liturgy of the Hours.
Reviews
"A wonderful achievement. With scholarly dedication, Milton Walsh is providing an excellent translation of Ludolph's entire Life of Christ, as well as identifying almost all of its sources. Walsh has enriched enormously for many people ways of meditating on the gospels."
Rev. Gerald O'Collins, SJ, Jesuit Theological College
"My advice is not to miss out on this volume for your future spiritual reading in the Easter season."
Carmel Posa SGS, Tjurunga
"A book for anyone who is interested in seeing the Easter scriptures through a devotional lens. . . . A lovely and accessible book."
Rita Ferrone, PrayTell blog