A Psallite Triptych
Sacred Songs for Liturgy and Life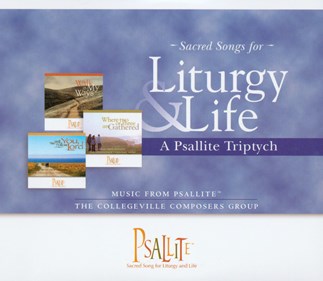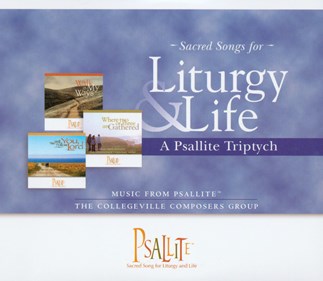 ISBN: 9780814679661, 7966

Details
:
Run Time: Approx. 03:11:06
Publication Date:
08/01/2007
A Psallite Triptych includes each CD from the Psallite collections: Where Two or Three Are Gathered: Year A, Walk In My Ways: Year B, and We Will Follow You, Lord: Year C. This inspiring collection is ideal for personal listening.
The Collegeville Composers Group
includes Carol Browning, Catherine Christmas, Cyprian Consiglio, OSB Cam, Paul F. Ford, PhD,
and Paul Inwood.
View all Psallite products by The Collegeville Composers Group here.
ISBN: 9780814679661, 7966

Details
:
Run Time: Approx. 03:11:06
Publication Date:
08/01/2007
Reviews
. . . the collection is deeply pastoral in the models it provides for music to open/close the celebration, to proclaim God's Word, and to draw communicants to/from holy communion.
Fr. Jan Michael Joncas, University of St. Thomas, St. Paul, Minnesota
Musically, the styles are many and varied: there will be something that appeals to everyone . . . Having used the previous sampler extensively, I am happy that the songs work, drawing people into song whilst processing, providing a spiritual moment in particular during the Communion procession through the repetitive nature of the music and the scriptural texts.
Music and Liturgy
It gives us a resource to reintegrate into our celebrations the ancient practice of singing the psalms at the entrance and communion processions. Such fine contemporary settings are a welcome addition to the repertoire of parish liturgical music.
Celebrate!