New to Liturgical Press catalogs and promotional materials!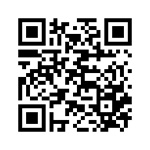 What is a QR Code?
QR codes (short for quick response) are two-dimensional barcodes that make it possible for your smartphone to quickly connect to relevant web content, such as product pages on our website.

How are QR Codes read?
Your handheld device can scan QR codes if it is equipped with:
Mobile web service
The ability to take pictures
A compatible app that reads the QR codes
Need a QR code reader app?
This type of app takes only seconds to download and is usually free. We have provided links to two of the many available QR code reader apps. Please note that these suggested apps may not be compatible with all phones. If this is your case, check with your cell phone service provider for recommendations.
What kind of content will Liturgical Press QR codes bring up?
Our QR codes, which can be found in our new catalogs and other printed promotional material, are provided to help you learn more about books and resources from Liturgical Press. Our codes will usually bring you to the full description and editorial reviews of the title shown. Some connect you directly to web-only content, like free sheet music samples. They are all meant to provide a more informative shopping experience, making it easy for you to browse through the many products we offer.