Living Liturgy Sunday Missal 2024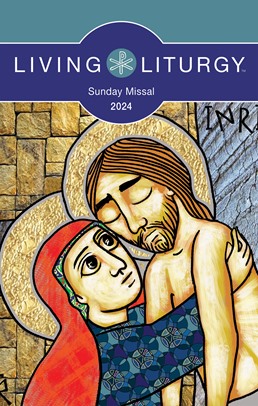 SEE INSIDE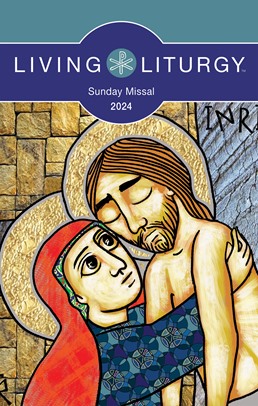 SEE INSIDE
ISBN: 9780814668146, 6814

Details
:
464
pgs,
5 1/4 x 8 1/4 x 3/8
Publication Date:
07/11/2023
Living Liturgy™ Sunday Missal combines essential liturgical content with the finest presentation on the market today. This annual, single-issue Sunday Mass pew resource is compatible with any hymnal program and affordably priced for parishes. Includes art by Ruberval Monteiro da Silva.
Gospel reflection for each Sunday
Readings and congregational dialogue in large, 13-point, bold type
Two-color text in sense lines
High-quality cover and paper
Includes the Rite of the Liturgy of the Word and the Rite for Distributing Holy Communion Outside Mass
Musical psalm settings from The Collegeville Psalter by Paul Inwood
Pricing for a group order:
Bulk Pricing*

500 or more copies
$3.15 net*
50-499 copies
$4.95 net*
6-49 copies
$8.95 net*
2-5 copies
$11.95 net*
*Price is listed per annual copy. Shipping and handling are additional fees, and no returns accepted on this product.
ISBN: 9780814668146, 6814

Details
:
464
pgs,
5 1/4 x 8 1/4 x 3/8
Publication Date:
07/11/2023